If you want to…
…then this course is for you!


This combined course will give you everything you need to know to successfully publish your Kindle and Print books with Amazon, the world's largest bookseller.

Discover:
How to prepare your book for publishing

How to successfully format your book

How to publish your book globally

How to receive amazing royalties

How to market your book

Earn a Passive Income for Life
Once your book is on Amazon, it will be there for life. This popular online bookstore is open 24/7. People all over the world can buy your Kindle book and download it in 60 seconds.
How profitable is Amazon Publishing?
As of December 2017,197 million users visited Amazon's websites every month. In comparison, Barnes & Noble had 21 million monthly visitors. Publishing with Amazon gives you access to serious buyers.

John Locke sold over one million copies of his Kindle book within five months.

Lee Child, author of the Jack Reacher novels, has sold over 100 million books. He sells a book every 20 seconds on Amazon.

Pastor Max Lucado's books have sold over 100 million copies and have occupied spots on every major national bestseller list.

"Left Behind" series. Authors Tim LaHaye and Jerry B. Jenkins to date have sold around 4 million copies.
Amazon pays 35-70% royalties on the Kindle book and 60% (less printing costs) on the paperback.

Avoid Information Overload

The modules are easy to understand. Follow the directions and you will soon be earning an income online.
Avoid Frustration
This is an exciting way to begin your publishing journey. This course teaches you the right skills to successfully publish on Amazon.
Reach a Global Audience

The traffic on the Amazon site is huge and filled with people looking for books to read. Every digital device on the market has access to the free Kindle Reading app. Publishing with Amazon is free and fun.
Why Publish a Print Book with Amazon?
There are amazing benefits for self-publishing your print book with Amazon.
Traditional publishers can take two to three years to get your book into the marketplace. Amazon does that in three days.

Traditional publishers take control of your book and offer royalties of around 10-12%. Amazon pays 60% (less printing costs). Approximately 60 days after a sale, the money is in your bank.

Traditional publishers only market your book for a limited time. Amazon does everything they can on an ongoing basis to help you sell your book. The more money you make, the more money they make.

Traditional publishers know Amazon is the best place to sell books so they publish your book there. Why not publish yourself and keep all your royalties?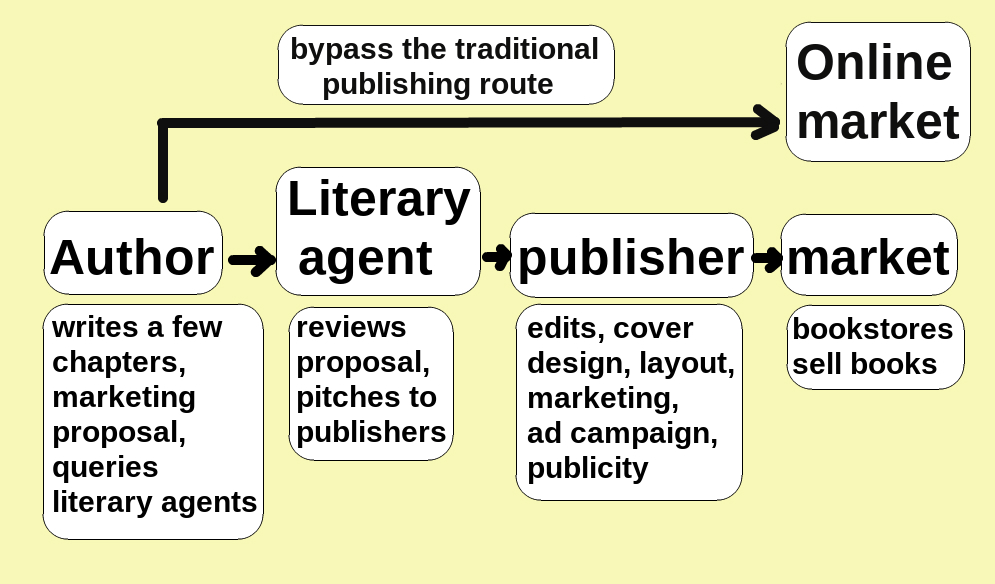 Graphic by Tomwsulcer (Wikimedia.org)
Self-publishing permits authors to bypass publishers and bookstores and sell directly to the public.

Why not have the best of both digital and print worlds?

Get into print now with this stunning new course.
This course assumes your book is ready for publication. It takes you through the publishing process and offers some marketing ideas